Reasons Why Use IT Staffing Agencies
In today's competitive job market, businesses face challenges in finding skilled IT personnel efficiently and cost-effectively. Lengthy hiring processes, staffing shortages, and the need for temporary or specialized IT staff can strain internal resources. This is where staffing agencies come in. In this article, let's explore the benefits of partnering with staffing agencies.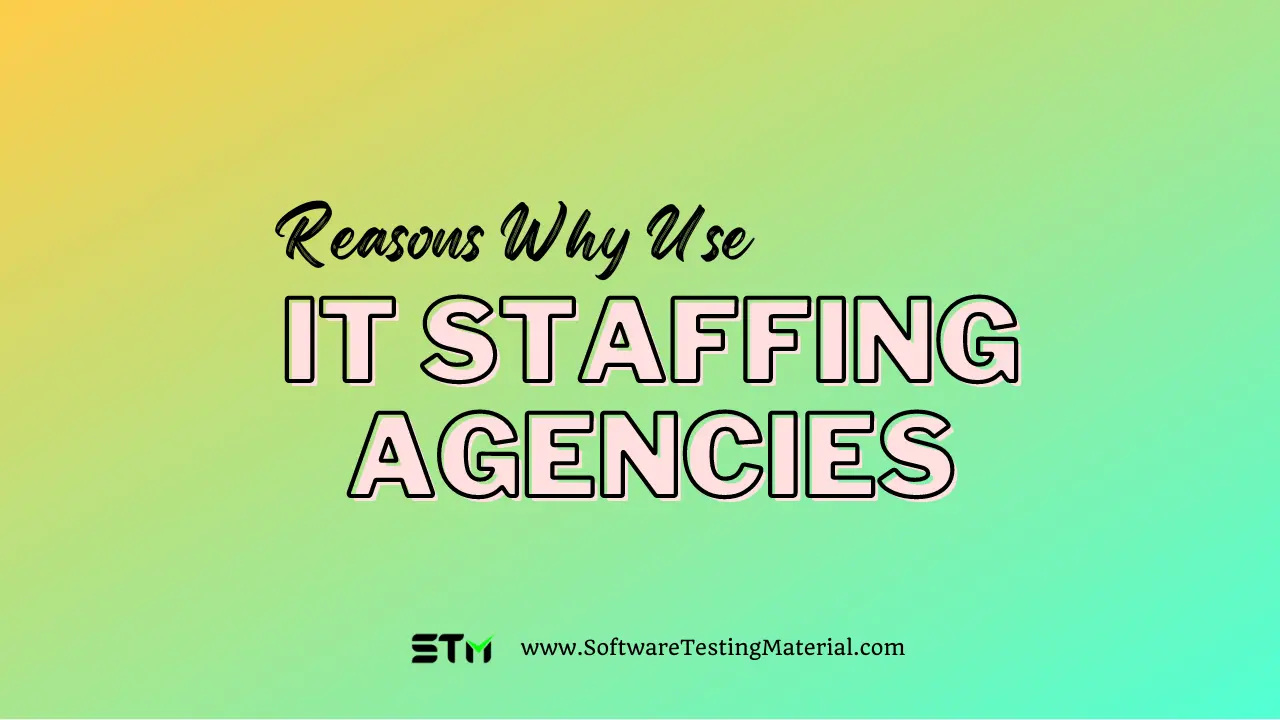 What Are IT Staffing Firms?
An IT staffing agency conducts reference checks, reviews resumes, creates shortlists, arranges interviews, and positions individuals for on-site employment on behalf of the business.
By using IT staffing services to hire employees, employers may concentrate on business growth, take on additional short-term projects without increasing cost, and have the option to minimize staff and overhead when projects are finished.
How Does a Staffing Agency Work?
Several businesses will have trouble finding employees with the ideal technical, soft, and personal abilities. A staffing company can assist your company in overcoming that difficulty with a few easy steps. Here's how it typically works:
Contacting the agency: You reach out to a specialized IT staffing agency and provide details about the position requirements, the number of employees needed, the hiring timeframe, and compensation.
Job description creation: The agency creates a compelling job description for your company and advertises it. They may also proactively search for suitable candidates who align with your requirements.
Candidate evaluation: The agency screens and evaluates applicants based on their skills and credentials. They identify the most qualified candidates and recommend them to your recruiting manager.
Final selection: You have the opportunity to interview the top candidates suggested by the agency. This saves you time and effort in the screening process.
Administrative support: The agency handles administrative tasks, such as handling contracts, taxes, and payroll-related duties, simplifying the onboarding process for new hires.
The Benefits of Engaging IT Staffing Agencies
Working in collaboration with staffing agencies offers a multitude of benefits for businesses aiming to enhance their recruitment processes and maximize employee retention. Here are the key advantages:
Heightened Workplace Efficiency
One of the primary benefits of utilizing temporary workers from staffing agencies is the immediate alleviation of workload pressure on permanent staff. By seamlessly integrating these temporary professionals into the workforce, businesses can improve overall workplace efficiency and maintain productivity during employee absences or demanding periods.
Accelerated Hiring Processes
Conducting recruitment independently often involves sifting through countless resumes, many of which are not aligned with the desired qualifications. Staffing agencies streamline this process by presenting businesses with a curated shortlist of pre-screened candidates. This time-saving advantage allows organizations to expedite their hiring processes and secure talent more rapidly.
Access to Recruitment Expertise
Staffing agencies possess specialized knowledge and expertise in the realm of talent acquisition. By engaging their services, businesses gain dedicated recruitment partners who focus solely on sourcing and securing the most suitable candidates. This collaboration relieves the burden on internal HR departments and significantly enhances the likelihood of attracting top-tier talent.
Savings
Opting for temporary staffing solutions offered by agencies enables businesses to optimize their workforce and adapt staffing levels according to project requirements. This flexible approach provides substantial cost savings by eliminating the need for long-term hiring commitments and reducing expenses related to onboarding and training new employees.
Enhanced Employee Retention
Insufficient employee retention can result in diminished productivity, increased recruitment costs, and low morale among the remaining staff. Staffing agencies offer an effective solution through temporary placements or temporary-to-permanent positions. By relieving the workload on existing employees, businesses can mitigate burnout and create an environment that encourages long-term commitment.
Industry Insights and Market Knowledge
Staffing agencies possess valuable insights into market trends, industry-specific requirements, and the current job market landscape. This knowledge can prove invaluable when crafting job descriptions, setting competitive salaries, and staying updated on industry best practices. Leveraging the expertise of staffing agencies ensures that businesses remain competitive in attracting top talent.
Compliance and Legal Considerations
Employment laws and regulations can be complex and ever-changing. Staffing agencies are well-versed in these legal requirements and ensure that candidates are properly vetted, and all necessary documentation, such as work permits and background checks, are in order. This compliance expertise provides peace of mind for businesses, mitigating the risk of legal complications.
What Are the Disadvantages of Using a Staffing Agency?
Reputational Repercussions
Setting up a high-quality internal hiring procedure can improve your business's standing with both potential and present employees and become an essential component of your culture.
Candidates can continue to promote their positive interactions with your company even if they don't obtain a job offer. However, if you choose to work with a staffing agency, you are depending on its well-known name, stellar reputation, and professionalism. In such instances, it might not be good for your own company if an applicant has a bad hiring experience when dealing with the agency.
Cultural Fit
When you rely on a staffing agency to fill a position, there is a risk that the candidate may not fully understand or align with your company's culture. It becomes crucial to ensure that the agency accurately represents your business to find candidates who fit well within your teams.
Training May Take Time
The learning curve is typically shortened when a contract temp joins the team because tasks must be accomplished promptly and effectively. The standard learning curve time needs to be adjusted because a hiring manager might not have time to train them as extensively as they would for a full-time employee.
How Much Does a Staffing Agency Charge?
While there is a fee for their services, it is typically paid by the employer rather than the job seekers. The fees charged by staffing firms might be anything from 20% to 50% of the hourly wage of the hired worker.
The fees charged can vary based on factors such as geographic location, the field of specialization, and demand for the specific skill set. It's important to weigh the cost against the benefits and consider the value of finding qualified candidates efficiently.
What Are Common Misconceptions About Staffing Agencies?
Cost of Hiring
Many businesses initially perceive hiring agencies as expensive. However, when you consider the time and resources saved in the hiring process, partnering with a staffing agency can prove to be more cost-effective.
Understanding Your Business Needs
Given that your HR team members work for your company, it's natural to assume that they are more familiar with the demands of your business and the types of people who would be the best additions to your teams. While that is true, it doesn't necessarily mean that staffing agencies don't understand the needs of your company and sector.
The Hiring Process Will Be Delayed
Many businesses believe that outsourcing the employment process to staffing firms may hinder the hiring procedure. However, your HR department's duties extend beyond simply recruiting. When you hire a staffing agency, they will handle the employees' payroll, benefits and tax assessments, and other duties.
Resource Stability
The consistency of recruited resources is very debatable. It won't matter whether a resource is employed directly or through a staffing company if they are unstable. However, if a resource becomes unreliable, the agency takes responsibility for finding a replacement promptly to avoid work disruptions.
How Do You Start Working With a Staffing Agency?
To begin your journey with an IT staffing agency, here are some key steps to follow:
Determine Your Hiring Requirements and Budget
Before seeking a staffing agency, establish your recruitment needs. Are you looking for permanent or temporary employees? Do you need individuals for a specific project or department? Consider your budget as well. Having a clear understanding of your requirements and budget will help you communicate effectively with the agency.
Research and Compare Staffing Agencies
Begin by asking for recommendations from other companies in your industry. In addition, conduct online research to find reputable staffing agencies. Evaluate their track record, reputation, cost structure, and the services that they offer. Look for agencies that have a successful history of placing workers in IT roles and understand the nuances of your industry.
Ensure Compliance With Legal Requirements
It's important to verify that the staffing agency complies with employment-related legal requirements. This includes ensuring proper worker classification and adherence to payroll tax regulations. The agency should handle these aspects for temporary and temp-to-hire positions, serving as the official employer for tax purposes.
Maintain Communication With the Agency
Open lines of communication with the staffing agency are crucial for effective collaboration. Keep them updated on any changes to your staffing needs and provide feedback on the quality of candidates they send. Clear communication will enable the agency to refine its search and deliver better results.
Conclusion
By leveraging the expertise and resources of staffing agencies, businesses can optimize their recruitment strategies, save time and costs, and focus on core operations. Remember to establish effective communication, collaborate closely on candidate selection, and continuously evaluate the success of the partnership to ensure long-term success in hiring top talent.