7 Challenges in Test Automation {Challenges & Limitations in Selenium WebDriver}
Challenges and limitations of Selenium WebDriver 
As we all know Selenium WebDriver is a tool which automates the browser to mimic real user actions on the web. Selenium is a free open source testing tool. Some of the challenges with Selenium WebDriver are as follows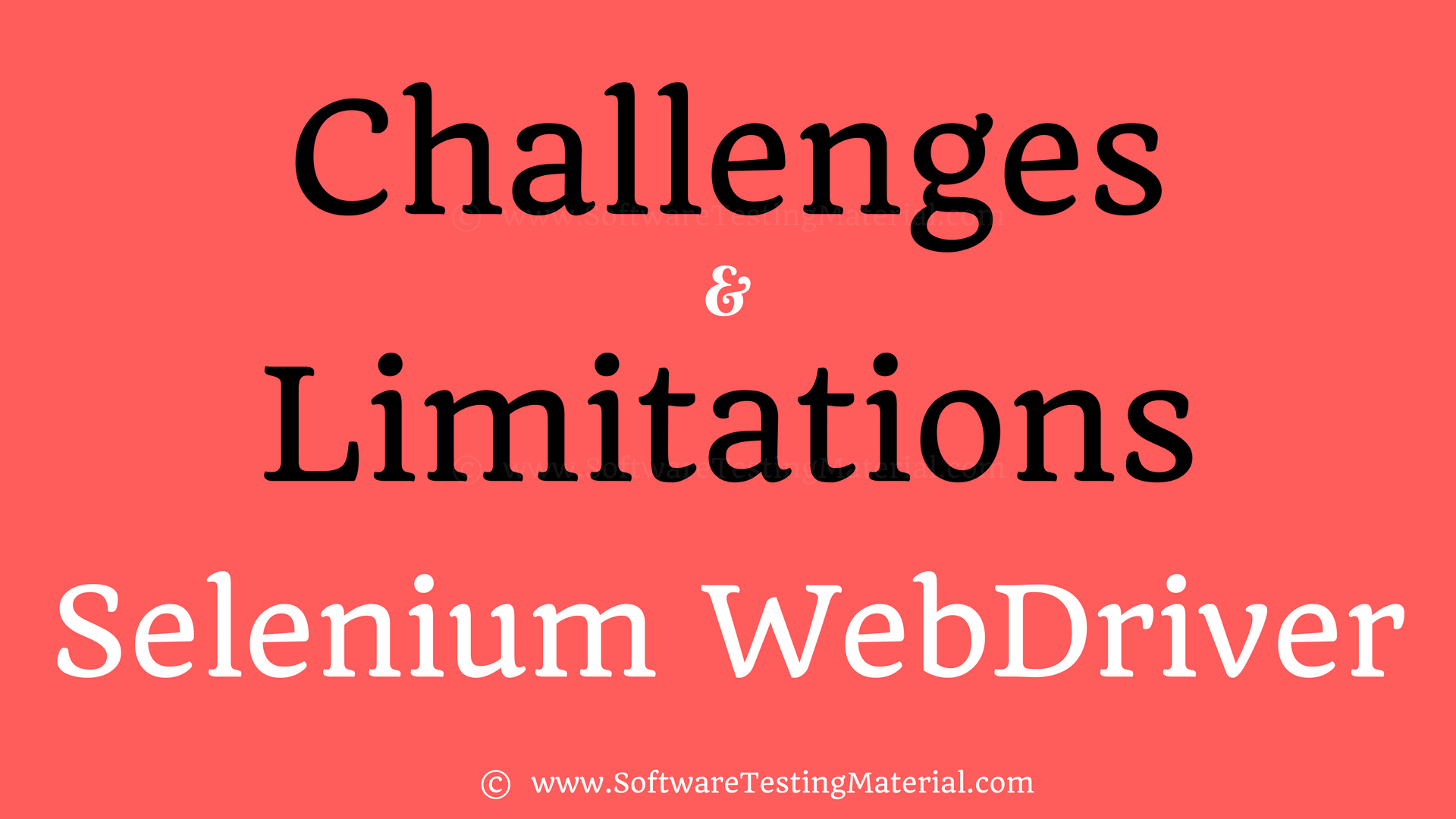 Check the below video to watch "Challenges and Limitations of Selenium WebDriver"
1. We cannot test windows application:
Selenium doesn't support windows based applications. It supports only web-based applications.
2. We cannot test mobile apps:
We can test on any operating system and browser on the desktop using selenium but we cant deal mobile testing with selenium alone. But there is a solution for this. You can use Appium to handle iOS and Android native, mobile, and hybrid apps using the WebDriver protocol.
3. Limited reporting:
With selenium, you couldn't generate a good report. But there is a workaround. You can generate reports using TestNG or Extent reports.
4. Handling dynamic Elements:
Some of the web elements are dynamic in nature. If an element's id is changing on every page load then it bit tricky to handle this in the normal way. We need to handle the dynamic elements with dynamic xpath or dynamic css selectors. Functions like starts-with, contains, ends with, etc., works well to handle dynamic objects.
5. Handling page load:
Some of the web pages are user specific. These user-specific pages load different elements depends on the different user. Sometimes some elements appear depends upon the previous action. If you choose a country from country dropdown then cities related that country will load in the cities dropdown. In runtime selenium script may not identify the element. To overcome this we need to use explicit waits in the script to give the elements enough time to load and to identify the element.
6. Handling pop up windows:
Windows-based pops are part of the operating system. It's beyond selenium's capabilities. We could use AutoIT to handle the windows based popups.
7. Handling captcha:
Handling captcha is a limitation in selenium. There are some third-party tools to automate captcha but still, we cannot achieve 100% results.
You may like these: