FlexClip Free Online Video Maker

How to Create Videos with FlexClip Simple and Effective Online Video Creation Tools
Did you know that to have a successful campaign to attract a large number of customers and keep them using your services and products, the PR for the product is extremely important, apart from improving product quality?
There are many ways for you to promote products to users. One of the extremely effective ways is to use the video for advertising campaigns, product promotion, or personal brand.
Most product promotion videos highlight the advantages that products bring, so building videos to promote products is indispensable if you want to do business. Try to think about why the video platform is constantly growing today. 
Because of the video platform's continuous development, many users are trying to create unique videos for themselves. However, creating a video to promote products or introduce products is not easy without the support of video applications.
Creating a video in a certain field such as Finance, Business, Education, Tourism, and Product or Service requires you to have an idea and more knowledge in that field. So, it is not easy for you to create a professional video, right?
If you are confused and do not know where to start to create professional videos, then in this article I will introduce you to a completely easy to use tool – FlexClip that can help you quickly create a professional video.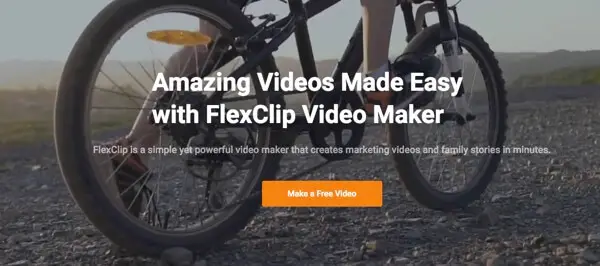 What is FlexClip?
FlexClip is an easy online video creation tool based on hundreds of templates that allows even beginners to create and edit videos, without the need to download any additional software. 
It is very easy to use. Just create an account, upload the image or video you want to use, apply it to a template, and export. 
There are multiple templates for each theme, as shown here, so you can search for the one that suits your purpose. You can have it to create all kinds of video styles, including slideshows, tutorials, birthday videos, Father's day videos, video advertisements, etc.
How to use FlexClip?
To use FlexClip fully, you may need to register for a free account using this link – FlexClip Signup
Click on the Sign-Up – Free button. At this time, an interface will appear as shown below.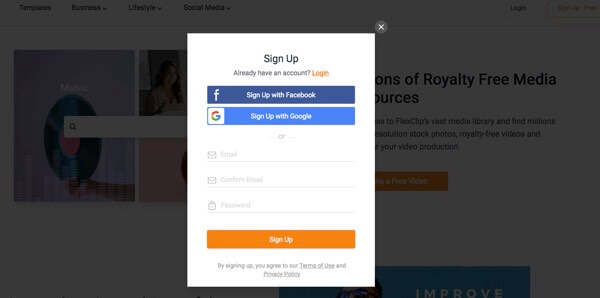 You can use your Facebook or Google account to directly connect with the service, but I recommend that you sign up for a new account that will be better for managing and logging in later.
Please fill in your Email and password – Click Sign Up.
After that, the system will send via email a link to activate your account, you just need to login to the email address and click on the activation link.
After activating your account successfully, log in to your FlexClip account.
As you can see, the interface is quite simple and easy to use. The library of templates is available with many different topics such as business, family, travel, animals, which help you create extremely professional video fast.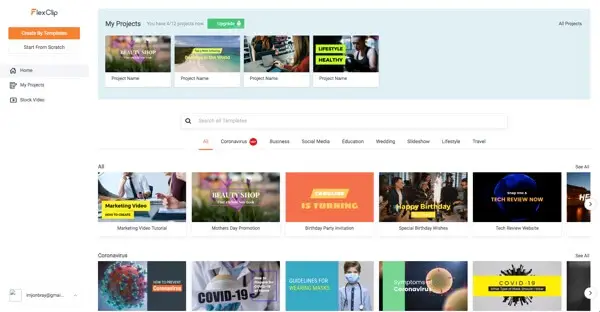 After selecting the template, proceed to customize the video. The editing screen has a very simple structure, and you can complete your own video simply by replacing the characters and images.

Do you find the video editing interface is very simple, right? You only need to experiment for 10-15 minutes, and you can quickly create yourself a professional video already.
The outstanding features that FlexClip has:
Many pre-made templates available to make your video creation process easier
Find millions of high-resolution photos, royalty-free clips, and music tracks for your video production
Touch up your videos with overlays, transitions, filters, and other animated effects
Cut and merge videos
Add music from the computer
Add text logo, watermark
Voice recording
Adjust the resolution
Zoom, rotate video
What you see is what you get. One-click to download or share your video.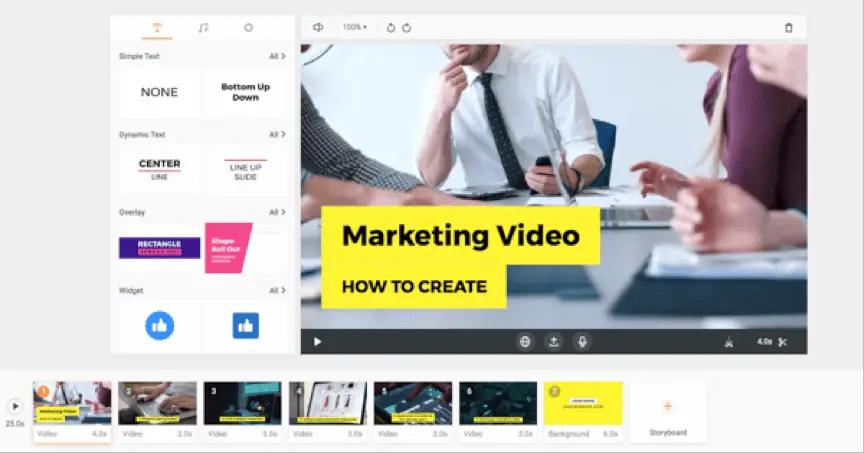 Once you have finished a video, you can export it in one click. The exported format will be MP4.
Pricing: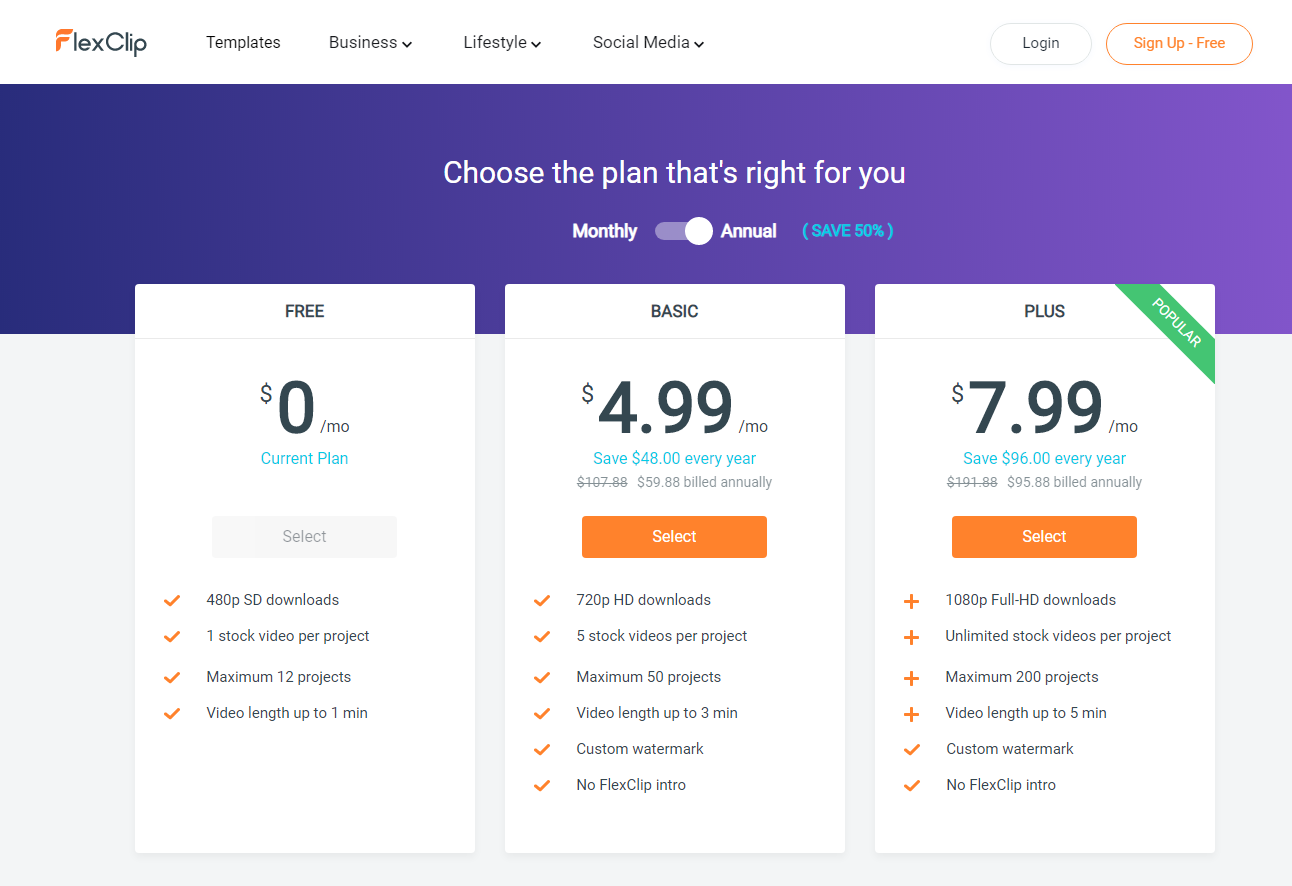 Upgrade to FlexClip plus plan using special 30% OFF coupon code: SPSFLEXCO (Grab it soon)
Conclusion
Even if it takes about 3 hours to think about a video from the composition, using this service gives the impression that it can be shortened to about 30 minutes.
Also, I found it convenient to be able to change the aspect ratio to a suitable size, according to the usage such as YouTube advertisement and Instagram advertisement.
As mentioned on the FlexClip site, it is easy to "increase sales", "increase traffic" and "promote share on SNS" by using videos properly, so if you are looking for a tool with full features to create videos, then FlexClip will help you. 
This is a video editing tool for most people. Whether you have not created videos or done before, FlexClip will help you manage video editing quickly and effectively there.
Related Posts: