How To Write a Software Tester Resume and Prepare for an interview [Download]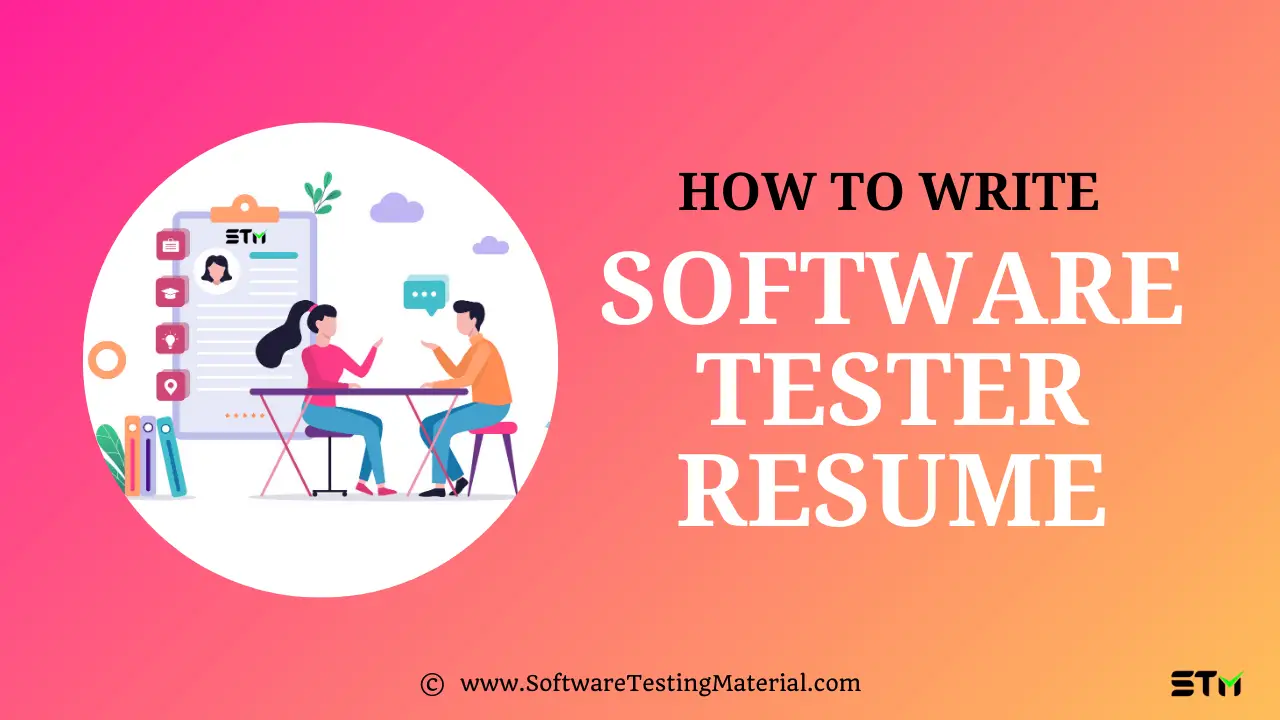 Are you looking to create the perfect software tester resume? Here is expert writing tips below for some guidance and also there are some sample resumes to download. In this article, we will see the following.
When companies seek employees, they want to get someone skilled and experienced. Still, there are candidates with impressive skillsets that don't get invitations to interviews despite their being a perfect fit for the job. The reason why this happens is that their application is average or their interview goes badly.
It's unfair, but quite understandable. With hundreds of resumes received for almost every job position (especially in big companies), it's hard to make a choice. The choice is as dependent on the resume quality as it is on your qualifications. Recruiters receive applications and are tasked to understand how qualified an applicant is just by looking at a couple of pages.
If you don't make these pages impressive, your odds at landing your dream job in the software or any other industry is slim to none. Nowadays, recruiters spend 7.4 seconds to skim a resume. That's how much you get to impress them and make them want to look closer.
Knowing this, you need a killer resume or CV to even be considered for the job position. Next, you need to ace your interview to convince them to give you an actual shot at the job.
But, first things first. Before we get to the interview tips, let's see what it takes to get an invitation to one.
How to Get Job: Start with the Resume
Unless you've been directly contacted to start working in software testing, it all starts with the application.
Here are some tips on how to write a resume for Software Testing profile.
Make an Impression
Think of your resume as an advertisement. If people like what they see, they show interest in getting it. Your resume must be eye-catching and attractive to make the readers interested and land you an interview.
Since you only have seconds to make a first impression, two things are crucial – formatting and organization. Your resume must appear professional and highlight the most important information – the skills or experience that make you attractive to the company you're applying for.
This means that your resume must be tailored for that specific job position. For example, if the position offered is for an educational software tester, you need to make it instantly visible that you have experience in this field.
Brainstorm First
Ideally, a resume should consist of a page or two – no more or less. Even if you have tons of qualifications and experiences, making it too big will only burden the readers. The task is to include the most impressive things in the little space you are given.
To do this, you need to brainstorm a little first. Don't rush into adding everything that you've ever achieved in your resume. Some of your skills are not at all necessary for the position. For example, if you are applying for a coder position, it doesn't matter if you have an event manager certificate, does it?
To decide on which item belongs in your resume and which doesn't – make a list and brainstorm. Make lists of your work experience, skills, projects, education, technologies, certifications, etc. Once you review the job description and see what they expect of the candidate, include only the things that are the right fit.
Use the Right Structure
Resumes must be written professionally. They require professional language, proper organization, and fine structuring. When you've narrowed down the details to include in your resume, it's time to handle the structure. Here is how it goes:
Header/ Personal Information
Place your name at the top. Follow up with your address, e-mail address, phone number, and any other contact information you think they'll need, such as your Skype address. You can also link to some professional profiles such as your LinkedIn account.
Objective
Resume for IT positions must include your objective at the top. This is just a small part of the document. Use one sentence to tell the reader what position you are seeking. When it comes to coding, companies often seek employees, so they'll need to know what you can do right away.
Example: Looking to work as a software tester. My aspiration is to work on interesting projects by using my skills and experience.
Summary
If you have a lot to showcase, you want to include a summary. This part is a shortlist of bullet points or a table that tells readers what your resume will include in the right order i.e. certifications, awards, technologies, achievements, etc.
Example:
5 years of experience as a software test engineer/ spent two years as the lead test engineer
Proficient in test automation tools like QTP, Win Runner, and Silk Test
Proficient in automated scriptwriting and automation methodologies
Education
This is the part where you truly shine. It's where you showcase what you've achieved during those heavy years of study. If you're a software engineer, highlight that part for the reader. Share your highest degree first. Then, follow up with details.
This section of a software tester resume should include the following:
Your highest level of education
Your GPA (if it's high and if you've graduated recently)
Appropriate academic honors and extracurricular activities (for recent graduates)
Courses you've taken and relevant certifications
Certifications
Have you obtained some certifications that might help you with this job position? If you have, make sure to include them in this section. But, don't make the mistake to lie in your resume. This is where many applicants are tempted to add some fake information to make themselves more attractive to employers.
Example:
2011 Master's Degree in Information Technology
X University, GPA: 4.00
Other training:
Certified in Silk Test, WinRunner, TestDirector, etc.
Certification in Project Management by X
Employment History/ Professional Background
Many employers will look instantly for this part of your resume. They'll want to know what kind of experience you have in the field. In this part, you need to include the companies you've worked in, as well as some details regarding your position. You should include the name, duration, and years, your role, responsibilities, your strengths, some relevant projects, etc.
Don't go into details to describe jobs that aren't related or relevant to the position you're applying for. The company won't care about your work at a burger store while in college, not if you already have experience in a similar company based on your software engineer degree.
Project
Let's see what we have to write about project details and the roles and responsibilities of Software Test Engineer in resume. 
The project section includes everything you've done in your professional life. Projects are proof that you know how to do your job. When presenting projects, follow a specific pattern for all of them. Here are some important headers that you should include:
Name of the project (and company, if applicable)
Short description of the project in 2 to 3 sentences
Tools used for the projects
Size of the key
Responsibilities that you handled in that project
Example:
August 2011 – present – Lead software testing engineering at X company
Role: Lead software testing engineering
Project: Building an investment data infrastructure.
Responsibilities:
Gather load test data for test cases

Write SQL queries
Execute test cases
Coordinate all testing activities
Develop master test plans and strategies
Skills – Soft and Technical
Check this article to know the list of Soft Skills & Hard Skills which you can write in your resume. 
In these sections, you need to describe your skills. First, start with your technical skills. Include qualifications such as:
Software Testing: UI testing, Regression, Testing of desktop and mobile apps, Bug reporting, etc.
Web Skills: CSS, HTML, SOAP, etc.
OS Skills: Windows, macOS, Linux, etc.
Tools: Jira, Trello, etc.
In addition to simply listing them, make sure to define your proficiency level for each skill you mention. You might also want to categorize them into main skills and other skills depending on the job requirements. Some skills that might be a plus, but are not required in the description, should fall under ''Other''.
For example, you might want to list your skills in the following way:
Creation of test plans
Recording of results and progress of tests
Analysis of test results
Coding automated tests
Experience with web-based applications for testing
Automated/ manual testing experience
Use of source code repositories
Some Extra Tips for Writing Your Software QA Resume
Here are some additional tips for writing a quality resume:
Place the key information on the first page, preferably the first half of it.
Make sure that your application stands out by creating a readable structure and formatting it properly.
Read the contents of the job description several times before you start. Pay special attention to what they've requested.
Place a very clear objective on top of the resume.
Make it short and specific.
Don't just list projects and qualifications – give examples.
Use an appropriate title to your document provided that you are sending it online.
Include a professional e-mail address. Don't forget to add your contact details.
Keep it short – no more than 2 to 3 pages.
Never put fake information in your resume.
How to Ace Your Interview for a Software Tester Position
Once you impress with your resume or at least interest the recruiter enough to give you a real chance, it's time to prepare for your interview.
Elaborate on your work experience
This is it – your opportunity to elaborate on your experiences and projects in detail. If you haven't been able to get into detail to keep your resume short, the interview is where you truly shine! Do some preparation and know what to say if the interviewer asks you about a particular job or project.
Find answers to the common questions
You cannot anticipate what you'll be asked for sure. But, some questions are inevitable in interviews. These include questions about your previous jobs, projects, tools you have used or know how to use, your soft skills, testing terminology knowledge, and approach toward testing.
Must Read: 6 Important Interview Questions
Make sure to have the answers to all of these questions before you set foot at your interview.
Practice
No matter how silly it sounds, sitting in front of the mirror interviewing yourself can truly help. This will take the tension off, help you realize what the interview will be like, and allow you to practice your answers. You might even want to find someone to ask you the questions to get a real feel of how this will go.
Show interest
Even if you have amazing experience and skills, recruiters won't pick you unless they feel like you're interested in the job they are offering. Who would like to have an employee that doesn't care about the job?
Your interview is your chance to demonstrate an interest in the job position. Do previous research on the company and the job position. If possible, speak to some employees to learn what they search for in their workers. Use this information to impress the interviewer.
Be interactive
During the interview, you need to be professional and interactive. Make eye contact, dress appropriately, and sit forward. More importantly, be interactive. Don't just answer questions – ask some if you need answers, too. Elaborate on your answers instead of just giving a ''yes'' or ''no'' responses.
Be yourself
Companies don't only employ people because of their degrees. They require personality in their employees. It's what makes you stand out. Don't be afraid to be yourself during the interview. Remain professional, but give it your personal touch, too.
Final Thoughts
To get some inspiration when writing your resume, check out our sample resumes. You can download the Software Tester Resume using the download button below.
You might not be accepted for the job position even if you do everything right. There will be better candidates, people who the recruiter will like more, or simply someone who hit the right spot during the interview.
Whatever the outcome of this is, think of it as a win-win situation. Even if your resume and interview failed and you didn't get called on a second interview or employed, this is still a useful experience.
Interviews are your opportunity to practice. Practice will help you get better at this. Knowing what they ask will show you what to prepare for when the next interview comes. You might not have anticipated some questions. Now you get the time to find the perfect answer to them.
Now that you know all this, you are ready to start your software testing job search. Good luck!
Download Sample Software QA Resume
Sample Resume for Software Tester Freshers & Experienced
Sample Resume for Selenium Tester Freshers & Experienced
If you are looking for a customized resume, you can contact us. Our team will prepare a resume for you. We charge a very minimal amount for this.
Download the sample software tester resume using the below download link and make modifications as per your requirement.
Author's Bio:
James Collins is a freelance writer who's spent the better half of the last decade working for Edubirdie, a top-rated academic content company. He holds a Ph.D. in linguistics and has spent all his working years creating content. In addition to writing for students, he also contributes to journals and blogs online.
Related Posts: