10 Reasons Why We Need Web Scraping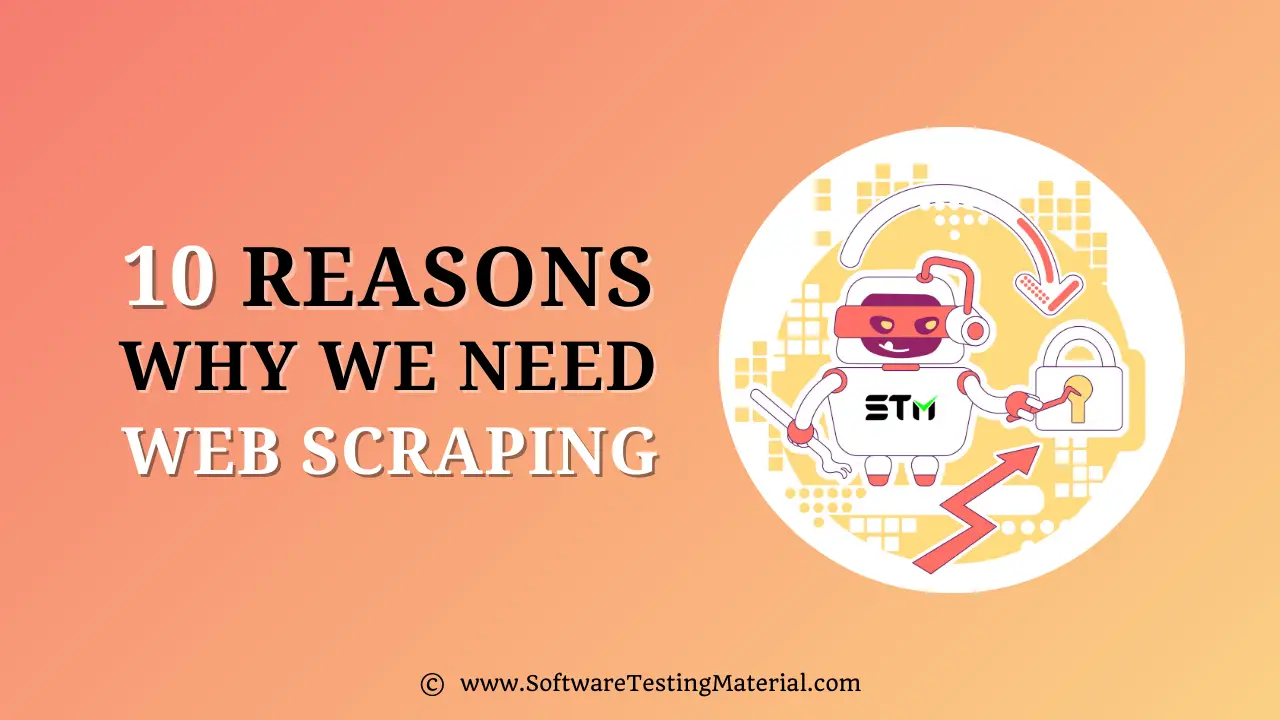 Web scraping, also known as web extraction, is simply retrieving data from different websites and compiling data.
Scraping can either be done manually or with software; however, it works efficiently and saves time. With many technological advancements, the software is taking over the ventures of web scraping.
A web scraper is beneficial in many fields, but the most important among them is business growth.
With the help of web scrapers, you can improve your business's growth on many fronts, and modern technology gives you many solid reasons as to why you should use web scraping. The top 10 such reasons are:
1. Monitoring of Price:
The most important aspect of business management and growth is setting product prices. The prices shouldn't be so high that it wards customers and you don't get any orders, and neither should it be too low that it damages your brand name and isn't profitable to your business model. You're probably wondering how web scraping can help you in this regard? Once you specify which products are your concern, web scraping helps you extract pricing information from different varieties of websites like Amazon and compile that data in a useful way that gives you an average price. You can set your prices based on that information.
2. Possible Market Trends:
We live in a technological idea where we can't guess how the world will look five years down the road, much like no one could have guessed last year what the world would have looked like right now. But what we can do is make rational choices based on valid research data. Web scraping helps you analyze the research and analytics of possible market trends. It gives you the background to mapping out solutions that can ultimately lead to your business's growth.
3. Keeping A Watch on Your Competitors:
In growing your business, keeping a watch on your competitors; seeing how they are pricing their products and which innovations they are making is important. You can't grow your business to be the best in the market without knowing what your competitor is up to too. In this regard, web scraping proves to be one of your trusted friends. It helps you scrape all of the data from your competitor's website and analyze their data. It gives you insight into your competitor's business that you never knew you needed, and that can be the stepping stone for your business's growth.
4. Maintaining Your Brand Identity
In the world of social trends and the internet, not only having a brand identity is vital to your business but also maintaining that identity is of utmost importance. Where good word of mouth and a good reputation attracts many potential customers, only one bad review on your website can ward off many of them too. Thus, having a bad review on your website is extremely detrimental to your business. In this regard, web scraping helps you remove bad reviews from your website and help you maintain your brand image.
5. Social Media Management
For leading a successful business in the modern world, leading a strong social media campaign and image for your brand is vital. Social media is the place to scour potential customers. Web scrapings help you access the data that can increase your social media game by many folds. It helps you decide what product to design and market on social media apps, and besides, it also helps you in targeting ads to potential customers.
6. SEO Enhancement
Integrating SEO work into your website is one of the leading forefronts of doing business online. SEO offers many techniques like keyword placement that helps you increase the visibility of your sites among hundreds. But with so many sites using SEO techniques, what sets you apart from the majority? This is where web scraping comes in the frame. It gives you insight into SEO techniques and which keywords are better than the other. Moreover, it also gives you insight into what SEO techniques and keywords your competition is using.
7. Knowing Your Targeted Audience:
If you keep marketing your products to an uninterested audience, then not only you are losing potential customers, but also wasting your money. To know your targeted audience is the first step in growing your business. Web scraping not only helps you to identify your targeted audience but also tells you what products to market to them. Thus it gives you valuable insights.
8. Tracking Trends
Where knowing the possible trends is vital for the prospects of your business, keeping track of the ever-changing current trends is necessary too. Only by keeping track of the trends can you satisfy the needs of your customers and make products accordingly. Web scraping makes keeping track of trends easier.
9. Improvising Better Solutions:
The current solutions for your business will drastically differ from the solutions you'll make five years down the road, and almost all of the above factors affect the solutions. For making it easier, web scraping is the ultimate solution. By scraping the web at regular intervals, you can always be at the forefront of leading innovation in the market.
10. Targeted Ads:
With digital marketing and algorithms, targeted ads to only a small number of targeted audiences are paving the way for the current market. It not only saves money but is also more effective than traditional marketing. While such advertising goes to advertising companies, and you pay money to them, with web scraping, you can easily access the information required for targeting specific ads. It increases your marketing tactics and as well as gives you a deeper insight into your targeted audience.
These are the top reasons that introduce you to web scraping and its many benefits to your website and business. It gives you tools to lead your business to the forefront of the market. Web scraping not only gives you access to useful data, but it also organizes the said data in useful and interactive ways.
Related posts: