AI and IoT are the practical enablers of Digital Transformation
Digital transformation is the need of the hour for enterprises to improve productivity and deliver better customer services. The scale and quality of such transformation can be enhanced by leveraging AI and IoT technologies.
The process of digitization and the advent of the internet have brought about a revolution of sorts touching all walks of life. However, manufacturing and operations have significantly gained by incorporating the digital trends in terms of augmenting production, streamlining the value chain, enhancing efficiency, removing or cutting down on redundancies, improving the quality of deliverables, and driving innovations to prepare the organization for future challenges among others. The digital revolution has been successful in addressing the global business challenges – rising cost of energy, logistics, and distribution etc. Moreover, new digital technologies such as the Internet of Things (IoT), Artificial Intelligence and Machine Learning (AI & ML,) 3D manufacturing, big data and analytics, and robotics have significantly altered the value proposition and capabilities of the global business and industry.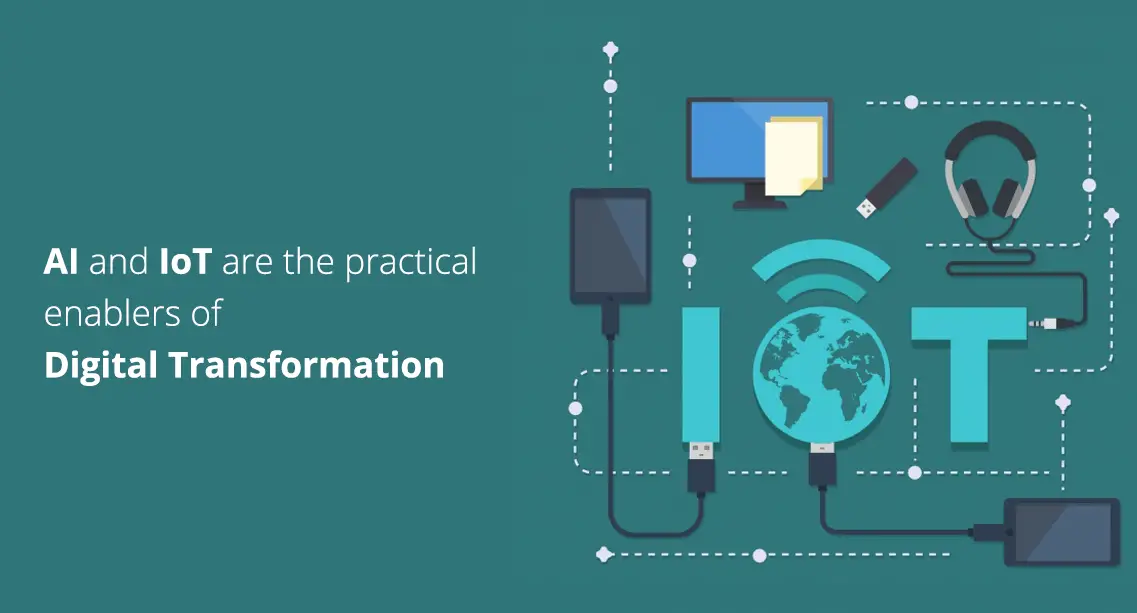 Internet of Things or IoT is essentially a proliferation of digitally connected devices that streamline the flow of information from one node to another. This interrelation eliminates the need for a human's or a machine's intervention to effectuate data transmission. If IoT devices are the practical enabler of digital transformation, Artificial Intelligence is the key driving force. It is next to impossible to manually make sense out of the voluminous data being produced by these IoT devices. This is why, there is a need to amalgamate the power of automation and cognition of humans. Artificial Intelligence is a product of such amalgamation. Mimicking human-level intelligence, AI is effectively taking over mundane tasks, resulting in higher productivity and better quality.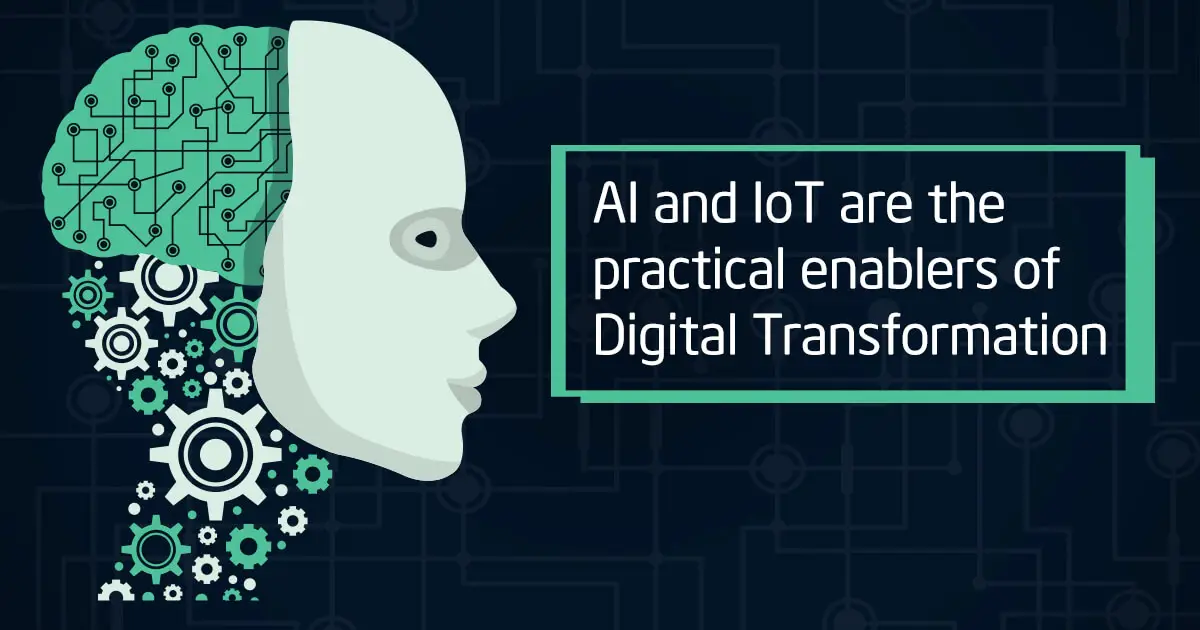 In the competitive business landscape of today, the enterprises that can thrive and be competitive are the ones that have gone for digital transformation. The process includes revamping the processes, departments, resources, models, and activities within enterprises by leveraging the latest digital technologies and the possibilities and opportunities they offer. The digital transformation services involve the breaking of silos among departments and streamlining communications across the value chain, upgrading the digital assurance and testing processes, and strengthening the customer feedback mechanism.
Factors driving digital transformation initiatives
Changing customer expectations and market dynamics.
The need to deliver quality product faster and within the turnaround time.
The need to enhance the operational efficiency to develop and deliver products/services that meet customer expectations.
Digital transformation has become the need of the hour for entities operating across domains such as healthcare, banking, insurance, and manufacturing, among others. It drives automation of processes, innovation, connects the value chain with various device platforms, leverages cloud, and adopts the latest build and test paradigms like Agile, DevOps and DevSecOps. Besides, it includes deriving business intelligence by applying predictive, descriptive, and prescriptive analytics on historical datasets.
Why AI driven digital transformation?
The enterprises of today need to go beyond merely improving their process efficiency through automation, albeit that is important as well. The futuristic goals would include developing and delivering products/services as per the needs and expectations of customers. In doing so, customer data could be culled from various digital touchpoints including social media to be analyzed threadbare to obtain actionable outcomes. AI can be leveraged by business stakeholders to make informed decisions on products or services that are aligned to customer choices and market trends. AI-driven digital transformation can be a catalyst to generate actionable business intelligence besides offering personalized customer experiences. Let us discuss a few scenarios where AI led digital transformation services are changing the norms of user engagement.
Banking: The banking sector is saddled with Non-Performing Assets of mind-boggling proportions. This has been caused by the non-payment of dues by individuals and businesses. An AI led banking system architecture can collate financial data about customers' or business' account details, defaults, buying preferences, and sundry activities, to get the true picture of their financial status. This insight can act as a bulwark for the banks disbursing a loan or mortgage. Furthermore, AI and ML can help banks to make better decisions using real-time data about staff's productivity, efficiency, and find out the outliers or exceptions related to the accounts. Also, today, when incidences of cybercrime or/and internal frauds are becoming common occurrences across the BFSI domain, an AI-driven banking system can red flag accounts or processes that show signs of being compromised.
Risk and Compliance: Modern enterprises often go for takeovers or Mergers and Acquisitions (M&A) to stay competitive. However, these can be fraught with risks as insolvent businesses can manipulate accounts to show themselves as thriving. In such a scenario, the company going for M&A or takeover can leverage AI and ML to garner actionable intelligence to find out whether the proposed 'union' is conducive. The AI system can gather information and understand from unstructured documents, bank accounts, insurance details, and loan statements. It can help enterprises to mitigate the risk of non-compliance.
Chatbots: AI/ML led chatbots have become a rage with enterprises deploying them at digital touchpoints to address sundry customer queries. These have improved customer interaction and help to meet their expectations. Since AI driven chatbots can operate 24 x 7, customers can get their queries resolved at any point in time. Enterprises too can save precious man hours and expenses on deploying the workforce beyond office hours and on holidays/off days. The best example of an AI led system can be the Facebook algorithm where one gets to view posts that are aligned to their preferences.
IoT as an enabler for transformation
If AI can act as an enabler of digital transformation, why should the Internet of Things (IoT) be left behind. The IoT envisages the interconnection of all digital devices or smart systems over a network (internet or intranet) for communication without any human input. Also, devices owned by customers generate a copious amount of data that can offer rich insights into their lifestyles, thought processes, impulses, and preferences. IoT transformation can help digital marketers/businesses to understand customer preferences across geographies and demography. It can help them tailor their campaigns effectively and as per customer expectations. Thus, IoT technology can help enterprises or marketers to generate leads and drive conversions, in the process, creating new or augmenting existing revenue streams. IoT can act as a strategic or transformational asset for enterprises and help them create value for the business as well as end customers.
Conclusion
AI and IoT can transform businesses and create value from analyzing data that are generated through digital devices. These technologies can help to improve the digital assurance and testing models thereby delivering customer delight. Incorporating AI and IoT in the value chain of enterprises can enhance the quality of deliverables and mitigate the attendant risks.
Author Bio:
Akshaya Choudhary, Content Marketer at Cigniti Technologies. An experienced marketing professional and content writer, responsible for strategizing and generating well-researched content that is in sync with the current software industry trends related to Quality Assurance services, products, and tools.